Revolutionizing Haircare: Exploring Future Trends and the Latest Tech Tools
Image used for illustrative purposes only
As the beauty industry continues to evolve, it's important for marketers to keep up with the latest tech tools and future trends in haircare.
Haircare is an ever-evolving industry, and with the latest advancements in technology, brands are exploring new and innovative ways to engage with their consumers and drive sales. Here are some of the latest trends in haircare that beauty marketers should keep an eye on.
Personalized Haircare Solutions: Personalization is a growing trend in the beauty industry, and haircare is no different. Consumers are looking for tailored solutions that address their specific hair concerns. Tech tools such as hair analysis apps and AI-powered chatbots can help brands offer personalized recommendations and products. For instance, Myavana and HairCode are two hair analysis apps that use AI to analyze hair samples and provide personalized recommendations for hair care products. Kérastase Hair Coach is a hairbrush that uses AI to analyze hair samples and provide personalized recommendations for hair care products.
Augmented Reality Try-Ons: Augmented reality (AR) try-ons are becoming increasingly popular in the beauty industry, and haircare is no exception. With AR try-ons, consumers can see how different hairstyles and hair colors will look on them before committing to a cut or color. L'Oreal Paris, Sephora, OPI, and Garnier are some of the brands that have incorporated AR try-ons into their online platforms, providing customers with a more immersive and interactive shopping experience.
Smart Hair Tools: Smart hair tools are another emerging trend in the haircare industry. From smart hairbrushes that analyze hair health to hair dryers that use artificial intelligence to adjust heat and speed settings, there are plenty of innovative tools that can help consumers achieve their best for their hair. Some brands are even incorporating voice assistants like Alexa and Google Assistant into their hair tools, making it easier to achieve salon-quality results at home. For example, the Dyson Airwrap Styler and the T3 Curl ID Smart Curling Iron both have Alexa integration. The CHI Spin N Curl and the GHD Helios Hair Dryer both have Google Assistant integration. These voice assistants can be used to control the temperature, speed, and other settings of the hair tools. Additionally, some hair tools can be connected to smart home systems and controlled through voice commands or smartphone apps. As voice technology continues to evolve, it is likely that more haircare brands will incorporate these features into their products.
Sustainability: Sustainability is a growing concern for many consumers, and it's important for brands to address this in their haircare products. From eco-friendly packaging to sustainable ingredients, there are plenty of ways for brands to make their haircare products more sustainable. Some brands are even using biodegradable ingredients in their haircare products, such as bamboo or sugarcane-based plastics, to reduce the environmental impact of the products.
By incorporating these latest trends into their haircare products, beauty brands can provide their customers with a more personalized, interactive, and sustainable shopping experience, thus driving sales and building brand loyalty. It's essential for beauty marketers to stay on top of the latest technological advancements and future trends in haircare to remain competitive in the ever-changing beauty industry.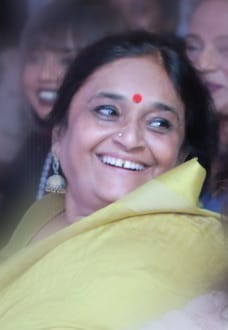 Sheela Iyer is an observer of the Indian Cosmetics & personal care industry and the editor of 'Cosmetech'. She regularly video interviews industry experts on Cosmetech TV and has her fortnightly podcast 'Cosmetics Today'
Subscribe to our free newsletter to read the latest news and articles before they are published.