Image used for illustrative purposes only
Like Argan, Marula too is found in Africa. Like Argan, it is great ingredient for skincare andlike Argan, it is exotic! Meet the new ingredient that has hit the 'exotic ingredient' scene recently and taken it by storm.
If you are looking for an ingredient for your sustainable skincare or clean beauty line, this is just the right one for you. With the potential to outdo Argan oil or Moroccan oil , Marula oil is finding itself into the formulations of 'indie' brands
Marula oil, derived from the indigenous Southern Africa Marula tree, can be used on its own as cold-pressed, unrefined oil, or as an ingredient in other skin and hair products. It is actually 16 percent higher in antioxidants and fatty acids than Argan and Jojoba. Marula oil is also rich in omega-3, which allows for faster absorption into the skin—so although it is a thicker oil than some of its counterparts, it sinks right into the skin, leaving it smooth and silky, not greasy. 
Image for illustration purpose only.
The oil is extracted from the plum-like fruit of a Marula tree. Extracted from kernels in its stones, the oil contains four times as much Vitamin C as oranges and is packed with omega-9 fatty acid, vitamin E and flavonoids. In creams and lotions these essential fatty acids and powerful antioxidants, particularly the high levels of oleic acid, help maintain the skin's moisture barrier, provide long-lasting hydration and protect against environmental aggressors. 'In the day it provides protection from UV damage, environment (pollution, exposure), and fatigue, whilst in the night the antioxidants are at their most active in healing and repairing skin while we sleep,' says Julia Noik, a spokesperson for African Botanics, who sell Marula oil-based products. 
Marula is pH balanced, non-comedogenic and has anti-microbial properties. It deeply hydrates skin and helps restore elasticity, improves skin tone and soothes irritation, making it ideal for sunburned skin. It also reduces redness and irritation post-facials, peels and laser treatments. It contains antioxidants, high concentrations of nutrients, minerals and essential fatty acids, which protect against environmental aggressors, reverse photo-damage, boost cellular activity, hydrate at the deepest levels and repair skin. Another advantage is that Marula oil can be used in its natural form as it's anti-microbial properties reduces the need for preservatives.  Marula Oil can be used in shampoo formulation for damaged, dry or fragile hair, skin care products, including formulations for maturing skin, lotions and other cosmetics.
Image used for illustrative purposes only
Marula trees are widely distributed throughout the tropical and subtropical zones of the African continent. It is found in abundance in Namibia, Botswana, Zambia, and Zimbabwe. With numerous local traditional uses, it is venerated throughout the region for its nutritional, medicinal, social, and spiritual significance. The Marula is of great economic importance to rural communities and every part of the tree, from the leaves to the roots, is utilized for a wide variety of domestic needs.
Consumers are increasingly interested in the story behind the cosmetic products that they use. At the same time, brands want their products to stand out from the competition by using marketing stories. These stories may be woven around the origins or around health, or traditional, sustainable and ethical sourcing process. Marula ticks all the boxes and can be a good story for a brand. 
 The Body Shop is one of the brands using Marula oil. The brand uses oil collected by women from the Eudafano Women's Cooperative in northern Namibia, where most Marula is harvested. Some of the other brands that use Marula Oil are – Paul Mitchell Marula Haircare, Naturals by Watson and Drunk elephant. Companies that supply Marula oils include Lonza , Hallstar, Aldivia and Carribean natural products.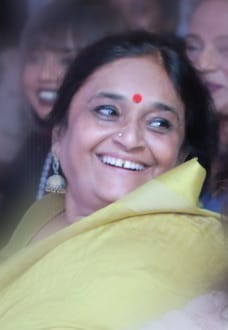 Sheela Iyer is an observer of the Indian Cosmetics & personal care industry and the editor of 'Cosmetech'. She regularly video interviews industry experts on Cosmetech TV and has her fortnightly podcast 'Cosmetics Today'