Aroma Mission sparks
Purple Revolution 
Image used for illustrative purposes only
Over 250 progressive farmers from Jammu's Doda district have successfully joined farmers from Kashmir by cultivating lavender thereby kicking off a purple revolution in the area. They say by adopting farming of unconventional aromatic plants, they are on a path of practically fulfilling the PM's dream of Atmanirbhar Bharat!
Lavender is a native of Europe and one of the most prestigious cash crops of the world, grown for its essential oil which is used extensively in medicine, cosmetics, perfumes and aroma-therapy.  The plant is cultivated in France, U.K, Bulgaria, New Zealand, Hungary, Australia, China, and now in India. Lavender is a bushy shrub 50-80 cm tall with attractive violet-blue to purple flowers borne in short compact to long spikes on a peduncle. It is a tough plant and grows well in a cool climate and even in a barren land. It needs minimum of irrigation. Lavender can be also grown by intercropping with apple or any other crop. The plant produces flowers once in a year for 30-40 days during June and July.
When IIIM (Indian Institute of Integrative Medicine) introduced Lavender under CSIR-Aroma Mission in 2018 and tried to popularize it in Doda, Kishtwar, and Rajouri districts of the Jammu region, 250 farmers took the initiative. IIIM had earlier disseminated Lavender in Kashmir valley and with the initiative paying rich dividends to farmers; it now introduced it to the temperate regions of Jammu as well. The farmers have, since then, started harvesting the crop and carrying out distillation. With the cost of Lavender essential oil touching almost Rs10,000 a litre and with each hectare yielding 40-50 litres, farmers are expecting four times returns compared to the returns they have been getting from cultivating maize. According to the information provided by Dr Sumeet Gairola, Senior scientist, IIIM Jammu to a local newspaper, quality plant material (QPM) of 8 lakh rooted plants of Lavender were provided to 500 farmers to be planted across 100 acres of land in the region, this year. The farmers have been enthusiastic and the results have been so encouraging that the mission has set itself an ambitious target to bringing 1000 acres in the region under lavender cultivation.
 Aroma Mission was initiated, to popularize aromatic crops and provide end-to-end technology and value-addition solutions to farmers across the country. It aims to boost cultivation and value-addition of medicinal and aromatic plants for supply to industries related to aroma business and to the traditional system of Indian medicine, especially in unproductive, marginal wastelands. Uttar Pradesh, Uttarakhand, J&K, AP, HP, MP, Odisha, Rajasthan, Gujarat, Karnataka, Chhattisgarh, Tamil Nadu, Maharashtra and North Eastern states are some states that will be covered by the Aroma mission. Under it, various economically beneficial aromatic crops including mint, vetiver ( Khuskhus), lemongrass, palmarosa (Gandhabel), Ocimum (Tulsi), patchouli (sughandhra), lavender, rosemary, tagetes (marigold/ Gendhe ka phool)), Jammu monarda and Valerian will be taken up. This is expected to generate employment among rural youth and create trained and skilled manpower. 
Image for illustration purpose only.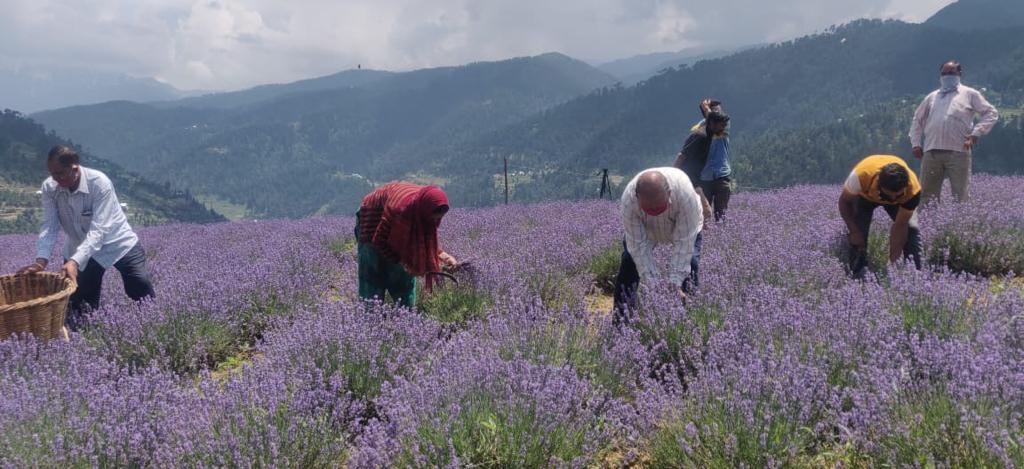 According to Ramakant Harlalka, governing council member – FFDC and Managing Director Nishant Aromas-" The purple revolution will soon spread to Leh & Ladakh, Sikkim, Arunachal Pradesh and new areas in Kashmir (areas above 1700 meters altitude ft) due to better connectivity in the Himalayan region brought about by the building of new roads, tunnels and infrastructure. "Aroma Mission phase 2 will not only increase farmer's income in the region but will also provide huge opportunities for Eco-Tourism," he added. Continuing on speaking to Cosmetech on Aroma Mission he said "The objective of the Aroma Mission is to popularize Aromatic Crops for cultivation with farmers throughout the country. In phase 1 of the initiative, the plans are to expand cultivation of a few crops like Lemongrass, Palmarosa, Vetiver, make available the crop's 'culture' for its cultivation in wasteland areas."
 Harlalka is passionate about the programme. According to him, given the increasing demand for 'natural ingredients' both in India and abroad, this initiative will not only help to substitute imports but will also facilitate export income for the country. He said," In the Himalayan states, cultivation of crops like Lavender and Tagate have been taken up on a large scale, enabling farmers to increase income manifold." " The success of the farmers in these regions has also inspired those who were dependent on conventional crop cultivation to follow suit."
The phenomenal success of 'Mentha' is a case in point. In the last 3 years, with adequate knowledge, following suitable agro techniques and by accommodating in crop cycles between wheat and rice, Indian farmers could beat the demand for synthetic menthol, earning additionally Rs 50000 per acre. India produced over 50,000 MT catering to 80% demand of the world market. According to Harlalka, a similar success story can be scripted for other crops as well. As stated by Harlalka, Phase 2 of the Aroma Mission would have a multidimensional approach. Starting from increasing the scale of Aromatic crop cultivation across the country, exploring more applications for essential oils and developing value-added products from the crop and it's processing, the initiative seeks to make India not only self-sufficient in essential oils but also make the country, the No.1 global supplier surpassing China.
India has over 65% of the population in rural areas, where although agriculture is the main source of livelihood, incomes are constricted. Hence Aroma Mission will prove to be a boon and hopefully will script a similar success story as with the 'Horticulture Mission'.
To know more about Lavender from the Kashmir Valley and Jammu, Contact: Dr Ram Vishwakarma, Director, CSIR-IIIM, Jammu. Email:  director@iiim.res.in
To know more about Aroma Mission or to felicitate your connection e-mail us at editor@cosmetech.co.in.